Clarks Original Westport Adirondack Chair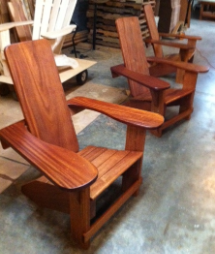 Click to enlarge image(s)
Westport Adirondack Chairs
An Historical American Adirondack Chair
Documented Adirondack chair history has the first Westport Adirondack chair being built in the state of New York in 1903. The chair was named the "Westport Plank chair" and was made and sold for over twenty years. Our Clarks Original Westport chairs have the same hallmark features of the iconic 1903 chair. A tall one piece back, wide arms and the same overall design appearance.
This chair is surprisingly comfortable as well as a very unique piece of American history.
Our Westport Chair Features vs The 1903 Chair
Our version of the historic Westport chair is built with Mahogany wood. It is durable as well as strong hardwood. The 1903 chair was made with Hemlock.

For extra sturdiness and durabliity our back legs are made with large two inch thick boards and the front legs are made with one and a half inch thick boards. The 1903 chair had one inch thick legs.

For better water drainage and comfort we designed the seat with five one inch thick slat boards rather than using only two like the 1903 chair.

Like the 1903 chair we use wide 9 1/4" by one inch thick arms. For strength we run 2 1/2" inch screws going down into the front legs and wood plugs to hide the screws rather than going under the arm and up which hides the screws, but has less holding strength over time.

Our chair like the 1903 chair has a beautiful solid one piece back.

The overall appearance of both chairs is the same.
Lead Time For Westport Chairs Can Vary
Depends on the availability
of the wide back boards.
Call us for updates: 859-225-4399

Stainless 316
Bolts and Screws
Seat depth 20 1/2" Seat width 23 1/2"
Back height 44 1/2" Arm width 9 1/4"
Chair weights 75 to 80 lbs.