Our Handcrafted Quality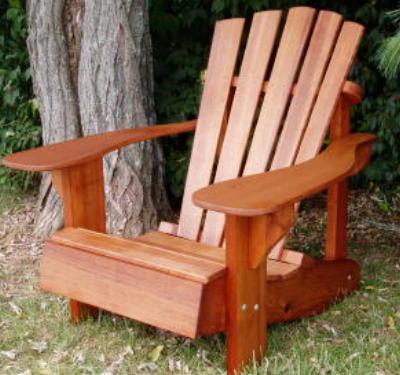 Top Choice
Building Materials

All our Adirondack chairs are built with premium top choice durable woods. Our lumber stock is hand selected for board straightness, color consistency and as free of knots and surface damage as possible. Here are the woods we currently use; Cypress, African Mahogany, Red Western Cedar, Ipe and Treated Yellow Pine. The bolts we use to attach the legs are either galvanized, stainless or bronze. The seat, arms and back slats are attached with powder coated Durafast wood screws and premium outdoor Titebond III wood glue.

Sturdy Long Lasting
Chair Designs

To optimize strength aesthetic beauty as well as symmetrical balance we use one and a half inch thick boards for our chair front and back legs. The larger leg boards provide more surface area to screw and glue down seat and arm boards which makes our chairs sturdier and less likely to split out over time. Our original Adirondack chairs feature wide one inch thick arms because they make an Adirondack chair what it is; without them you do not have a true American iconic chair. Remember a well balanced Adirondack chair should be not only eye catching but strong.

Detailed Craftsmanship
"Chairs are Built One at a Time"
After we finish cutting and sanding the chair parts we assemble each them "One at a time". This way we know that each and every chair that leaves our shop is our best. Every piece fits correctly and proper attention has been paid to all details.